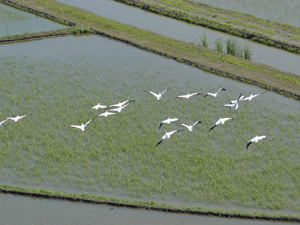 January 2, 2014
By Charles Gardiner, Executive Director
This is the sixth installment of the Healing the Delta series.
The California water and ecosystem patient is showing signs of multiple organ failure, stress, and unhealthy behaviors that demand a comprehensive treatment plan, a coordinated medical team, and family support.  However, our patient is faced with a far more serious problem than the design of the treatment plan: the health insurance has run out.  We are going to need some new and creative ways to pay for the treatment plan.
Delta Diagnosis:
Terminated Health Insurance: In the past, our California patient had a generous insurance policy to pay for the necessary health treatment plan. Federal and State funds were dedicated to water resources planning and environmental restoration activities. Unfortunately, over the last ten-plus years, the benefits of this insurance plan have been cut. Today, the health coverage has been all but cancelled and funds aren't available for a desperately needed treatment plan. In fact, State coverage was cancelled several years ago—since then, we have been carrying COBRA coverage provided by bond funds borrowed from the state's taxpayers.
Wealthy Uncle's Pockets Not as Deep: As health coverage declined, our patient turned to our wealthy Uncle, water contractors, for help and security. Happy to help, our uncle chipped in. But these tests, diagnoses, and treatment plans are expensive and Uncle could only afford part of the plan. As the health care costs mount, Uncle is reluctant to pay more without more visible signs of improved health.
Uncertain Medicare and MediCal Eligibility: Looking forward, it is uncertain if our patient is eligible for the health coverage needed. The board members of our health providers in Washington, DC and Sacramento appear to have other priorities and have been reluctant to commit necessary health care resources.
The California and Delta treatment plan will require substantial funds for treatment, surgery, recovery, and rehabilitation. We are in an era of new health coverage, so new approaches and responsibilities are needed for the treatment team, the patient, and family members.
Treatment Plan:
The patient's condition is urgent and the treatment plan is expensive, but cooperative, forward-thinking treatment and a reliable payment plan can set the patient on a course to recovery.
Pre-Existing Conditions: The patient has pre-existing medical conditions. Short-sighted, destructive behaviors and poor health habits have led to today's sick patient. We can't go back to change past overindulgence, lack of healthy green vegetables, or ineffective surgical repairs. We also have a broader understanding of patient health and new insight about the inter-related aspects of symptoms.  We are not well served by finger pointing or malpractice complaints. Going forward, our health insurance must accept the pre-existing health conditions and develop the overall treatment plan to improve the patient's health for the future.
Deductible, Co-payment and Patient Responsibility: The new future of health insurance for California water includes a high deductible and co-payments for every treatment action. The patient and family members will have to shoulder a higher percentage of the costs for tests, treatment actions, and monitoring. The patient and family members must also assume a greater role and responsibility for healthy behaviors and community well-being.
Healthcare Reform and Efficiency: The costs for water and environmental treatment actions are increasing dramatically. Some costs are reasonably associated with more integrated treatment plans, but the system is also showing signs of inefficiency and inaction. Years of analysis, overwhelming volumes of paperwork, risk-averse decision-making, and high administrative overhead are crushing our ability to treat the patient. Leadership must focus on efficiency, action, and patient responsibility to assure cost-effective integration and results.
The new world of water and environmental health management for California will require a more efficient healthcare system and shared responsibility for paying for and implementing a comprehensive treatment plan.
Stay tuned for a future installment on the interventions to address the more serious addictive behaviors sometimes demonstrated by the patient.
Healing the Delta series:
Part 5 – High cholesterol and diabetes: A leaner, healthier water diet
Part 4 – Indigestion: Water storage to feed fish, farms, factories, and families
Part 3 – IV fluids needed: Managing flows for the ecosystem and economy
Part 2 – The heart of California: Congestive heart failure in the Delta
Part 1 – Holiday hodgepodge won't help the Delta