Download the 2011 Status Report on Actions by Lead Agency (PDF)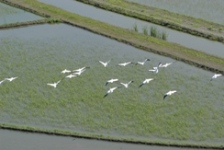 Download the Delta Vision Strategic Plan (PDF)
Download the Vision Strategic Plan  two-page summary (PDF)
Download the Vision Strategic Plan four-page summary (PDF)
Download the Vision Strategic Plan 12-page summary (PDF)
Our Vision for the Delta
Achieve the Two Co-Equal Goals of restoring the Delta ecosystem and creating a more reliable water supply for California. Achieving the Two Co-Equal Goals will require balance, hard choices and substantial investments. First and foremost, the Governor's Administration, the California Legislature and stakeholders must develop legal commitments that will assure implementation of the linked and integrated actions as outlined in the Delta Vision Strategic Plan.
Recognize and enhance the unique cultural, recreational and agricultural values of the Delta – an action critical to achieving the Two Co-Equal Goals. Designate the Delta as a federal Natural Heritage Area and a State Recreation Area. Establish and fund a Delta Investment Fund to promote appropriate recreation, tourism and other uses, and adopt land use rules that ensure urban development does not occur in flood-threatened lands or in a way that conflicts with the goals of Delta ecosystem restoration and a more reliable water delivery system.
Restore the Delta ecosystem as the heart of a healthy estuary. Restore approximately 100,000 acres of lands in the Delta by the year 2100, establish migratory corridors, and improve water quality to enhance habitat for fish, birds, plants and other wildlife. Manage water to increase flows at critical times for aquatic species and capture water in wet periods for human uses.
Promote water conservation, efficiency and sustainable use. Every water user in California must undertake conservation and water use efficiency. If voluntary efforts are not successful, then mandatory measures are needed and must be coupled with increased use of water recycling, desalination and other regionally sustainable sources.
Build facilities to improve the existing water conveyance system and expand statewide storage; operate both to achieve the Two Co-equal Goals. Over the next decade or two, the state must have new water storage, above and below ground, and must also build new Delta water conveyance facilities. The Delta Vision Strategic Plan recommends the 'dual conveyance' approach, where water is transported both through and around the Delta.
Reduce risks to people, property and state interests in the Delta by effective emergency preparedness, appropriate land uses and strategic investments. People and property located in much of the Delta are exposed to great risks from flooding, sea level rise and earthquakes. Increased protection must be provided, and new growth should be discouraged in areas subject to extraordinary risk.
Establish a new governance structure with the authority, responsibility, accountability, science support and secure funding to achieve these goals. The state adopted the task force recommendation to form a state commission to oversee actions of various state and federal agencies in the Delta. The Delta Stewardship Council, established in 2010, guides accomplishment of the Two Co-equal Goals by requiring consistency with the Delta Plan, which the council adopted on May 16, 2013.
About the Delta Vision Strategic Plan
The Delta Vision Strategic Plan is designed to be a comprehensive, integrated solution that will address the natural, economic, cultural and historic resources in the Delta. Read on for further detail about its provisions.
DELTA AS PLACE
Increase recognition of the Delta as a place and enhance tourism and recreation by creating a federally recognized National Heritage Area and a state-recognized multiunit State Recreation Area.
Create market structures or incentives for Delta agriculture to produce public benefits in addition to food and fiber, such as wildlife habitat, subsidence reversal, flood management, and recreation and tourism opportunities.
Facilitate new investments in "gateway" locations near major Delta cities and highways through establishment of enterprise zones, tax breaks and/or low-interest loans.
Achieve levels of emergency protection consistent with state and federal policies.
Adopt an overarching policy for Delta levee design, investment, financing, priorities and maintenance.
Ensure appropriate land uses in the Delta by discouraging inappropriate urbanization and promoting open space buffers to accommodate sea level rise.
DELTA AS ECOSYSTEM
Establish primary desired ecosystem characteristics and functions as the basis for managing the Delta and achieving stated outcomes.
Restore extensive interconnected habitats, including floodplain inundation and new floodplains, intertidal marshes and tidal open waters.
Restore Delta flows and channels to reflect a more natural climate pattern and characteristics of estuarine conditions.
Reduce or eliminate stressors to below levels of adverse effects, including harmful invasive species, man-made contaminants and entrainment.
Establish multipurpose migratory corridors along Delta rivers in coordination with upstream restoration efforts.
WATER SUPPLY AND QUALITY
Significantly improve water use efficiency for all users, including residential, manufacturing, business and agricultural.
Increase diversity of local and regional water supply portfolios to optimize regional self-sufficiency throughout California.
Integrate Central Valley water storage operations, flood management, regional self- sufficiency efforts, conjunctive use opportunities and ecosystem benefits.
Implement mechanisms and build facilities to improve reliability and predictability of water diverted from the Delta watershed, while balancing the desire to achieve a more resilient Delta ecosystem.
Improve water quality for drinking, agriculture and the ecosystem.
GOVERNANCE AND FINANCE
The 2009 Delta Reform Act and companion legislation addressed the first four of the following recommendations by establishing the Delta Stewardship Council and Sacramento-San Joaquin Conservancy, modifying the Delta Protection Commission, and requiring the development of the Delta Plan, which was adopted by the Delta Stewardship Council on May 16, 2013.
Through statute, establish a governance structure to ensure attainment of primary Delta Vision goals, headed by the California Delta and Ecosystem Water Council.
Through statute, also establish a Delta Conservancy and a Delta Science and Engineering Program.
Charge the council with developing and ensuring consistency with a legally binding California Delta Ecosystem and Water Plan as the primary mechanism to ensure consistency among local, state and federal actions.
Through statute, strengthen the existing Delta Protection Commission.
Finance plan activities through user fees and other effective and transparent financing tools.
Improve compliance of diversions and water use with all applicable laws, regulations and constitutional principles.